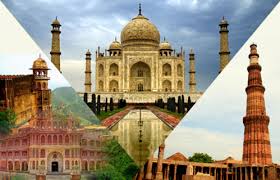 Traveling gives you a satisfaction that you deeply desire in your life. It uplifts your soul and makes you want to live, not just survive, your life abundantly. There is a lot to see in the world, and only a passion for travel can open up your possibilities to explore it fully.
If your area of interest lies in India, your journey would become a lot more fascinating if you begin with the golden triangle. The golden triangle is India's most popular tourist circuit that comprises the cities of National importance, which are New Delhi, Jaipur, and Agra. It's known by the name golden triangle because the states of Delhi, Rajasthan, and the city of Agra in Uttar Pradesh form a triangular shape when you look at them in a map. Want to know some major itineraries to look for while booking the golden triangle tour package? Well, scroll down!
Guide to a perfect Golden Triangle holiday tour package
When you ask your tour operator to book the golden triangle holiday tour package, you must first ensure the inclusion of the following itineraries in your package:
• Your journey must begin with Delhi. In Delhi, you must give a day to historical monuments like Qutub Minar, India Gate, Parliament House, Red Fort, and Humayun's Tomb.
• You can ask your tour operator to plan your Red Fort visit in the evening so that you don't miss the 'sound and light show'.
• The next destination on your package should be Agra. The first destination on your list should be Taj Mahal. Do include a guide for your tour across Shah Jahan's creation. After Taj, visit the Agra Fort located nearby. Enroute to Jaipur, don't forget to visit the Akbar's Tomb at Sikandra.
• On your arrival in Jaipur, you must give a day to the three most important forts: Amer Fort, Jaigarh Fort, and Nahargarh Fort. Do include a tour guide for all three forts.
• You can ask your tour operator to include a visit to Chokhi Dhani in your package on the last day. Have a heartfelt Rajasthani thali served to you at the Royal area of Chokhi Dhani while listening to a live melodious folk song sung by the traditional singers!
So, look for these itineraries in your package and be ready to explore the best of India in a couple of days. Book Golden Triangle holiday tour packages from your reliable tour operator and enjoy your journey through cultural, royal, and magnificent cities of India.