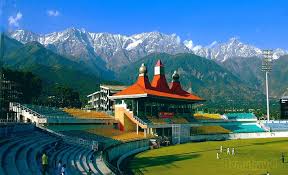 Dalai Lama's city Dharamshala has many attractions for the tourists. 5 major of them includes –
1. Beauty - You will get the extreme opportunity to be surrounded by spellbinding mountains, luscious trees, gushing water, and many more which will surely take your breath away.
2. Snowfall – If you really want to experience the true snowfall, visit Dharamshala between December and February. For having pleasant cool low temperatures and snowfall with sleet, it is our 'Switzerland'.
3. DIFF or Dharamshala International Film Festival – every year Dharamshala holds an international film festival. If you have always dreamt of attending a film festival, visit Dharamshala in November. During the festival, many Indian and foreign film critics and media persons head to this hill station in Himachal.
4. Trekking - Dharamshala is no doubt the ideal destination for the trekkers, especially its upper part. Glaciers and soothing waterfalls between the dense forests of rhododendron, oak, and pine, make it a perfect location for the trekkers.
5. Mcleodganj - Undoubtedly it is the best reason for the tourists to visit Dharamshala. This is Dalai Lama's home! You can visit a number of beautiful Tibetan monasteries here.
If you are a first-timer to visit Dharamshala, hiring a travel agent will be beneficial for you. And, in case you have already visited this place and planning again, you can enjoy staying at the best hotel room in Dharamshala arranged by your hotel booking agent.
7 reasons to hire the best hotel booking agent in Dharamshala and tour guide–
1. Experience – They are an experienced face of the tourism industry. They can provide you a better product than what you get on the internet.
2. Legal knowledge – If you get into trouble during your vacation, no matter if you are the guilty or not, your travel agent can fight your battle.
3. Resources – They have the access of every tool to make you avail a better seat on the bus or airplane, additional facilities at the hotel room, even tickets, and finally plan activities at the better locations and situations for you.
4. Convenience – Whenever you are on a vacation, you are sort on time! Yes, during that limited time, your travel agent can get you exactly what you want.
5. Relationships –Simply call them or meet personally to explain what you want from your vacation. They will plan accordingly.
6. Money-saving – Through their networks, a travel agent can save you some money while booking transports or hotel rooms.
7. Added value – The best hotel booking agent in Dharamshala can make you enjoy the value, which may earn you a bottle of champagne for a surprise!
And the best reason- they are amazing! They can be of different backgrounds but what common in them is their friendly, funny, and knowledgeable nature, and of course, each of them is passionate about sharing the globe with their clients.
So, definitely, you should enjoy the benefits of their services.